Disha India's work is to design engaging and challenging curriculum and pedagogy that use real-life experiences, preferably from the local context of the child, as a medium of teaching and learning in schools. Principles that guide and inform our work of curriculum design, learning pedagogy, culture building and teacher development are:
1. EXPERIENCE AS THE SOURCE OF LEARNING
Learning is a process where knowledge is derived from and continuously modified by the experiences that a learner goes through. To learn is not a special province of a single specialized realm of human functioning such as cognition or perception. It involves the integrated functioning of the total being i.e. thinking, feeling, perceiving and doing. For effective learning to happen one needs four different kinds of abilities- concrete experience abilities (CE), reflective observation abilities (RO), abstract conceptualization abilities (AC) and active experimentation abilities (AE). This means, one must be able to engage oneself fully, openly and without bias in new experiences (CE). He/she should be able to reflect upon and observe his/her experiences from different perspectives (RO). He/she must be able to construct conceptual understanding that integrates his/her observations into logically sound theories (AC) and he/she must be able to use these theories to make decisions and solve real life problems (AE). [Kolb's Theory of Experiential Learning]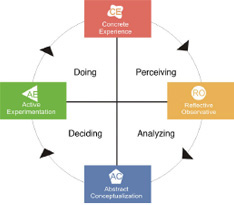 Kolb's Experiential Learning Cycle
2. LEARNING IN THE LOCAL CONTEXT
How can we engage children in the education process? How can we get them excited about learning? What will make them look forward to going to school everyday? Gandhiji strongly advocated that the purpose of education is to prepare children for life through life and for that, teaching and learning needs to be connected to their life. Connecting teaching and learning to the local context of children provides the much needed relevance and meaning to the education process. It not only helps children in developing a better understanding of their environment but it also makes the learning process real and active for them. With better understanding of the local context, children find themselves better equipped to take responsibility for it and their action.
3. PROACTIVE CITIZENSHIP
Proactive citizenship is about actively engaging ourselves in the civic issues of our locality and taking responsibility for them. This is one of the important goals of education. For this, we need to prepare children from very early in their life. We need to take civic and other important issues from the community as a learning context/pedagogic medium and learn how to build systemic understanding of them, how to find leverage for change, how to act and make a difference. Children having gone through such learning experiences during school education are better prepared for life. They develop skills and process of understanding complex community challenges and how to act for change. Their action quotient is high.
4. LEVERAGE FOR CHANGE LIES IN SYSTEMIC THINKING
The ability to act depends on our ability to think and our ability to think depends on our ability to see. Therefore, what we see is important. Developing our ability to see things systemically empowers us to act effectively and responsibly. Systemic thinking is a discipline for seeing relationships between parts, for seeing patterns rather than static snapshots and events. It is about seeing how one's thinking affects the situation and the outcome. Actually, it is about seeing our own connections to what is happening in the real world and finding the leverage for change and growth.